DORMAKABA
MUTO
MUTO Comfort is suitable for glass and timber applications, with a multiplicity of functions such as self-closing and integrated locking mechanism. Delivered by equipment that stays completely out of sight.
Self-closing action
Damping DORMOTION - without glass preparation, suitable for retrofit
Integrated electromechanical lock and status indicator
Suitable for glass and timber solutions
Synchro and telescopic models available
Easy installation and adjustment thanks to removable front cover
MANET
Thanks to the flexible modularity of the system, DORMA MANET offers architects and specifiers a free hand in implementing creative almost bespoke designs with space, vision and light as a foundation. The standard component is the single-point fixing which is countersunk into the glass and provides for a perfectly flush finish in all applications.
High quality single-point fixings made of stainless steel
Flexible modularity
Available for several glass thicknesses
Creative composition of light, space and vision
Minimalist appearance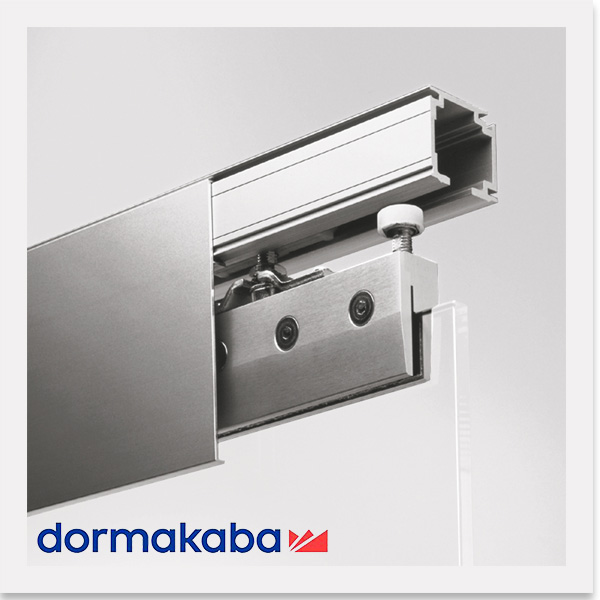 RS 120/120 Syncro
The DORMA RS 120/120 Syncro features a hollow-section aluminum track that is light yet rugged and resistant to twisting. It can be fixed directly under the ceiling or onto a wall.
The RS 120 Syncro features a cable and deflection device for synchronously opening a bi-parting doorset. So a minimum of effort leads to the maximum opening width.
To download the RS 120 BIM Component please click here
Rugged track
Clip-on covers
Sidelight profile
End stop and holder
Clamp-type fittings – no glass preparation required
Easy wall installation